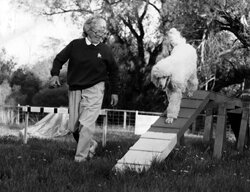 Share Your Memory of
Virginia
Obituary of Virginia Brady Calkins
Dr. Virginia Brady Calkins was working at Gowanda Psychiatric Hospital in the late 1980's, when she learned that one of her elderly patients couldn't be discharged to live on his own. Hospital administrators had discovered that the patient didn't have a bed in his new place. A patient could simply not be discharged into a home without a bed. So Dr. Calkins pinched a pick up truck from the hospital's landscape crew, loaded an old bed from the hospital's basement into it, and delivered it to the elderly man's apartment. The patient was quickly—and happily —discharged.
That was Dr. Calkins. The woman had an endless supply of what her late husband, Dr. Evan Calkins, called "get up and go." She was one of the early female physicians in this country and the mother of nine children. She served as the president of the Hamburg School Board and the president of the Vassar Club. She presided over an astonishing menagerie through the years—one that changed to fit her children's interests—which included Arabian horses, standard poodles, Dorset sheep, chickens, ducks, guinea pigs, cockatiels, a monkey, a raccoon and a tortoise named "Happy."
Dr. Calkins turned 97 on Friday, October 8. The cards and cakes had already started to flood into the big red brick house on Windover Drive. But shortly after midnight, Dr. Calkins must have decided that 97 years was plenty. A collection of her children, her younger sister, Emita Hill, and her standard poodle, Sam, were by her side.
Virginia Calkins was born in Baltimore, at Johns Hopkins Hospital, where her father was on the staff as a gynecologist. She could walk from the family home to Pimlico Race Course and was in the grandstand in 1938, when Seabiscuit defeated War Admiral in the legendary match race. Dr. Calkins excelled in academics at Bryn Mawr School, at Vassar College and at the University of Michigan, where she received her B.A. But she preferred to talk about the time she was instructed to write an exam "in prose," which for some reason she thought meant rhyming verse. She loved to laugh about that.
As a teenager, Dr. Calkins showed her poodle, King, to AKC titles in conformation and obedience. She got the first perfect score ever awarded in obedience and—along with her sister, Barbara—was invited to give a demonstration at the Westminster Dog Show in New York. Dr. Calkins's plan was to be a veterinarian but her father persuaded her that she'd get better scientific training at medical school. So in 1945, she enrolled at Johns Hopkins, one of the few medical schools that had begun accepting female applicants.
That's where she met Dr. Evan Calkins, who was interning at the hospital. When he asked her to marry him, she said, "Can I bring the dogs?"
After medical school, the couple moved to Boston with their first child, Sally, who would shortly be joined by Steve, Lucy, Joan, Ben, Hugh, and Ellen. The Boston Globe featured Dr. Calkins in a story headlined, "The Busiest Woman in Massachusetts." She would soon get busier. Dr. Evan Calkins accepted a position of Chief of Medicine at the Buffalo General Hospital, so off to Western New York the family went. Then two more kids—Geoff and Tim—joined the tumult.
Dr. Calkins worked at Gowanda Psychiatric Hospital until it became a prison, at which point she cheerfully became a prison doc. She would leave for work early every morning—leaving behind a big pile of buttery pancakes or a pan of scrambled eggs and sausages—and return early afternoon to take charge of the kids and the dogs and the rest. All nine children graduated from Hamburg High School. They were active in 4-H and in band. The second-youngest, Geoff, was diagnosed with childhood leukemia when that was considered a death sentence. Dr. Calkins held his hand through every doctor's appointment and every experimental treatment. Geoff is 60 years old today.
Nobody quite knows where Dr. Calkins found the strength and the energy. But her quick afternoon snoozes must have helped. In addition to raising nine children of her own, Dr. Calkins hosted three American Field Service exchange students—Bart from the Netherlands, Ronald from Costa Rica and Hubert from Switzerland—for a year apiece. When family friends were killed in a car crash one tragic Easter weekend, she took in their three children for the rest of the school year.
Her kids and grandkids—there are 31 grandkids—all went to elite colleges and built impressive careers, but Dr. Calkins didn't much care about academic prestige. She liked people. She particularly liked supporting people. She liked to tell a story about a little girl who came home from school one day and announced she was in the school play. No, the little girl wasn't a princess or a knight or even a tree. "I'm a clapper," said the girl.
Dr. Calkins fixed hamburger casseroles for the Night People in Buffalo. She marshaled her kids and their friends to go door-to-door selling pizzas—out of the back of her station wagon—for the American Field Service. She met a man in a nursing home who had a bird feeder outside his window but nobody to refill the feeder. So she returned to fill the bird feeder herself, every single week.
Make no mistake, Dr. Calkins was as intimidating as she was generous. She didn't have much patience for slow drivers, fancy recipes or fools. One of her daughters once asked her if she was truly happy. "I don't have time to think about it, I have to go feed the horses," was her response.
Dr. Calkins loved Victor Borge, tomato sandwiches with mayonnaise, summers in Michigan, Dick Francis mysteries and a good stiff old fashioned. She loved JoAnn Falletta and the Buffalo Philharmonic Orchestra. She loved riding through the woods and fields on her Arabian horses (even in hunting season, when she would think she was taking real precautions by hollering out "Don't shoot!) and she loved sharing ice cream with her dogs. Dr. Calkins would take her dogs everywhere, even on rounds at the hospital. She took them to her children's graduations from Harvard and Williams. Of course, poodles are smart dogs.
Dr. Calkins was a prolific writer of letters. She would write all nine of her kids, nearly every week. She would write her four sisters, old classmates, whoever might need a boost. The stationary didn't matter. She would write on the backs of old envelopes or birthday cards or whatever was around. "We have two helpers now," she wrote, in a letter from 2015. "It is very social here with the two of them cleaning out the cupboards. Debating what to do with the Worcestershire sauce that expired in '06."
In her later years, Dr. Calkins counted on her helpers, as she became increasingly infirm. The family can't say enough good things about everyone who pitched in and made it possible for her to stay in that big brick farmhouse until the end. Dr. Calkins couldn't walk but she made it to the Erie County Fair five times this past August. She also made it to Disney, back in February, where she went on an elaborate ride called Soarin', after which she wisely noted, "We should do that again."
In lieu of flowers, the family asks that any charitable donations be made to the Hamburg Presbyterian Church, the Hamburg Alumni Foundation or the Buffalo Philharmonic Orchestra. Or just go out of your way to be kind to someone. Or sit down and hand write a letter to your own mother. That's what Dr. Calkins would have you do. Then share an ice cream with your dog. Arrangement have been entrusted to the Donald M. Demmerley Funeral Home, 21 Pierce Ave. Hamburg, NY. Please share condolences online at www.demmerleyfuneralhome.com.
Calkins, Virginia B, MD died peacefully at her home in Hamburg with her family around her on October 8th, her 97th birthday. Predeceased by her devoted husband of 73 years, Evan Calkins MD. Mother of Sarah C Oxnard MD (Thomas Oxnard MD) Exeter NH; Stephen Calkins (Joan Wadsworth) Northville , MI; Lucy Calkins , Dobb's Ferry NY; Joan Calkins MD, Hamburg NY; Ben Calkins, Cleveland OH; Hugh Calkins MD (Beth Gregory) Baltimore MD; Ellen Calkins (Joseph Cipparone) Old Lyme CT; Geoff Calkins , Memphis TN ; Tim Calkins (Carol Saltoun MD) Chicago IL. Also 31 grandchildren and 19 great grandchildren. Also survived by her sister Emita Brady Hill, New Rochelle NY.
Friends and family are invited to a celebration of life at the Hamburg Presbyterian Church , 177 Main Street, at 12:00 PM on Saturday November 20. Covid vaccines and masks covering both nose and mouth required. Also lunch to follow at the house in Hamburg.
In lieu of flowers please donate to the Hamburg Presbyterian Church, the Buffalo Philharmonic Orchestra, or the Erie County 4 H.
To send flowers to the family or plant a tree in memory of Virginia Calkins, please visit Tribute Store
Celebration of Life
12:00 pm
Saturday, November 20, 2021
Hamburg Presbyterian Church
177 Main Street
Hamburg, New York, United States
Our Facilities
Donald M. Demmerely Funeral Home
21 Pierce Avenue
Hamburg, New York 14075
Phone: 716-649-1366
Fax: 716-649-1367
Email: demmerleyfh@aol.com